Blackfalds - a great place to live and grow!
For those who want a small town family oriented atmosphere but the amenities of a city, this town has exactly what you're looking for. With a population of 11,530 and growing, Blackfalds offers a balanced range of municipal services to accommodate every member of the community. Provided through innovation and proactive community partnerships, the Town of Blackfalds ensures you have everything you need to feel right at home.
With two major highways, Highway 2A and the Queen Elizabeth Highway, the town is able to provide excellent access to Central Alberta's major transportation routes. You'll find it's easy to get to work or play, whether in town or any of the nearby communities and worksites.
Blackfalds has a vibrant and competitive business climate and is the site of many new investments and opportunities. This diverse area is home to many locally owned businesses that compete in the national and international markets. It's the perfect place to start up a new business, or refine an existing one.
Blackfalds, Alberta
---
In the Aspen Lakes community you'll find yourself close to many amenities:
Abbey Centre
Servus Credit Union Public Library
Blackfalds Community Centre
Eagle Builders Centre
Tayles Water Spray Park
Blackfalds Inclusive Playground
Kuhnen Park and Trans Canada Trail - Community Trails Map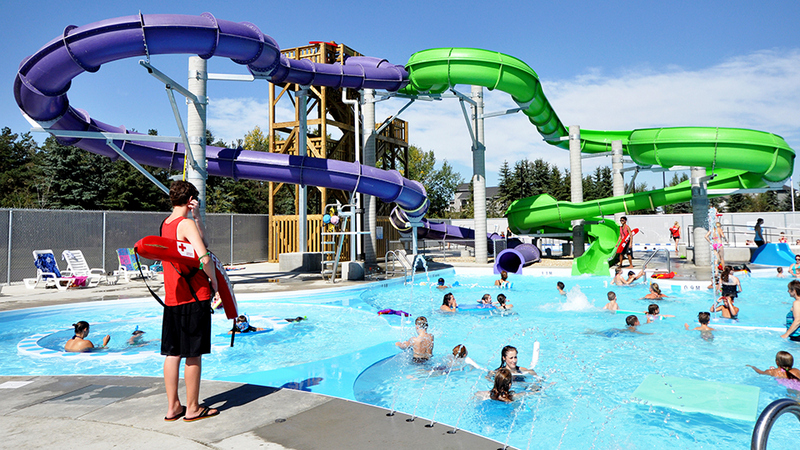 ---
Habitat for Humanity Spotlight
Habitat for Humanity Red Deer and Forum have combined efforts to build up the residential neighbourhood of Aspen Lakes West in Blackfalds, Alberta! Working on Habitat for Humanity's 1st ever accessible unit with energy efficient practices make this neighbourhood so special! The day included platform framing, studding walls, laying floor joists, and many uses of the nail gun! The importance of quality materials and workmanship help create these stunning homes in the community.
Habitat For Humanity Red Deer is a non for profit organization that believes "everyone deserves a decent place to live". Their efforts help bring communities together and support families building strength, stability, and independence. All donations are locally incorporated and allow for an affordable lifestyle for homeowners in Western Canada.
Forum encourages everyone to do their part and help out locally and globally!
Search for available commercial properties and residential properties for rent.
For leasing inquiries please contact our office at 780-448-9157 or email us at This email address is being protected from spambots. You need JavaScript enabled to view it.
Habitat for Humanity Red Deer
---